About us

Ever since we first opened our 557 Queen Street West Store in 2009, we at Freshly Baked Tees have been working our t-shirt printing magic for customers across Toronto. We've made it our motto to ensure that every customer leaves with a smile on their face: our prices are low, but our quality is top-notch. 
As the fastest t-shirt printer in town, our 5-minute turnaround time guarantee on custom-printed shirts never fails to impress newcomers. Stop by our shop to view our super soft tees and sweaters in person, and let us show you how we can make your order come to life.
Free Delivery Service
On Orders Over 4+ Items
At Freshly Baked Tees, we're here to make things easy for you: if you're too busy to come by our shop in person, don't hesitate to place your order online. We provide free delivery on orders over 4 items to your home or office.
We don't just stop at t-shirts, either! Browse our website for different apparel for men, women, youth, and babies, from hoodies and sweaters to raglans and even tanks.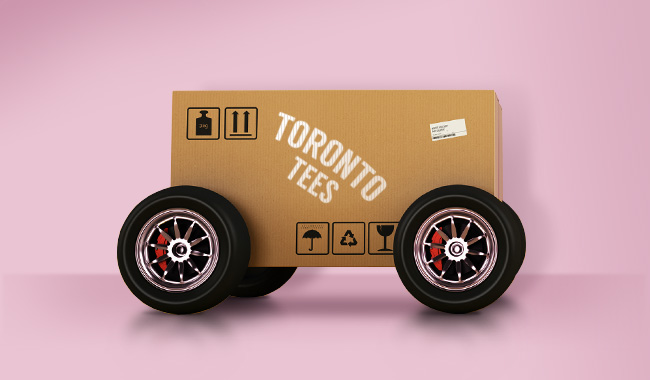 We are
Trusted by






Our Staff
Our team at Freshly Baked Tees takes our motto of "Make Things as Easy as Possible for Our Customers" seriously. With friendly service and knowledgeable support, we strive to make our printing services as stress-free and exciting as possible. Visit us today online or in-person to get a quote on your next t-shirt printing project!
Tour Our 557 Queen West Shop
At Freshly Baked Tees, our staff is committed to getting your custom shirt printed in just 5 minutes! We'll walk you through each step of the process and make it as easy as possible for you.
Our two locations are both easily accessible by the TTC and open 7 days a week, 12-7 pm. Stop by today to let us help you bring your ideas to life – no appointments necessary!
Friendly Staff &
Super Quick Service
Make Things as Easy as Possible