In the competitive landscape of corporate branding, creating a lasting and powerful impression is paramount. One strategy that is gaining momentum across Canada is the practice of printing company logos on sweatshirts. This seemingly simple approach can yield remarkable results, offering businesses in Canada a unique opportunity to enhance brand visibility while ensuring comfort and style for their employees. In this article, we will explore corporate hoodies' numerous benefits and why this trend is rapidly gaining traction in Canadian businesses.
The Influence of Branded Sweatshirts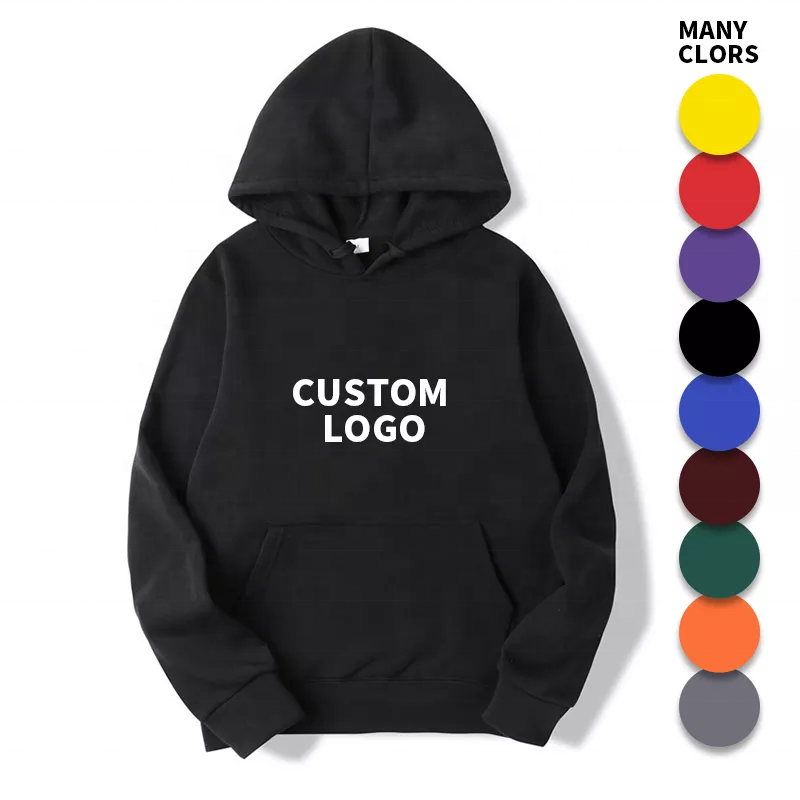 Branding is not merely about a visual logo; it encapsulates the essence and values defining your business. It's the soul of your company, the principles it stands for, and the promise it makes to its customers. Company-branded sweatshirts become a dynamic canvas through which this identity is vividly portrayed. They are not just garments but a statement of your brand's character. These business hoodies not only resonate within the confines of your organization, fostering unity and a shared sense of purpose among your team members, but they also extend their influence to the broader world, carrying your brand's message to every place they are worn. They are, in essence, a wearable embodiment of your company's story and ethos, making them a potent tool for communicating your brand's identity.
Mobile Brand Ambassadors
Your team members become more than just employees; they transform into mobile brand ambassadors when they don sweatshirts featuring your company's logo. They wear logo hoodies and carry your brand's identity wherever they go. The prominently displayed logo is a beacon, drawing attention and igniting conversations, even in the most unexpected places. Whether commuting on a busy city street, enjoying their favourite coffee shop, or attending a social event, these sweatshirts make a statement. They're not just clothing; they represent your brand's values and principles.
Brand visibility amplifies organically as people notice and inquire about the logo on these sweatshirts. As they go about their daily routines, your employees inadvertently become brand evangelists. They share their positive experiences working for your company and help spark interest and curiosity about your products or services. In essence, these branded sweatshirts act as a mobile advertising campaign, creating a ripple effect that extends your brand's reach and influence to every corner they visit, ultimately enhancing your brand's visibility in the most authentic and impactful way.
Ideal for Diverse Work Environments
Canada's weather can change daily, and employees need workwear that can keep up. Branded sweatshirts fit the bill perfectly with their ease of layering and flexibility. They are equally suitable for cool spring mornings, where a light layer is sufficient, and for the depth of winter, when additional insulation is essential.
These attributes make branded sweatshirts an excellent choice for employees across various industries. They seamlessly bridge the gap between functionality and fashion, offering employees in Canada's diverse work environments comfort and style while proudly displaying your company's logo and identity. In this way, they serve as a symbol of unity among employees, representing their shared commitment to your brand's mission and values, regardless of the unique challenges posed by the Canadian climate.
Social Responsibility
Participating in charitable and community activities while sporting branded sweatshirts transcends mere symbolism; it becomes a powerful and tangible demonstration of your company's core values and unwavering commitment to social responsibility. It's more than just a logo on a garment; it's a living embodiment of your brand's dedication to positively impacting the community.
When your employees engage in charitable events, community service projects, or philanthropic endeavours while proudly wearing these branded sweatshirts, they send a resounding message. It's a message that speaks volumes about your company's character, compassion, and integrity.
Seeing your team members wearing these sweatshirts while volunteering or participating in community activities visually represents your company's ethos. It shows that your organization isn't solely focused on the bottom line but is deeply invested in giving back to the community. This action demonstrates a profound sense of social responsibility, highlighting that your company understands its role and duty as a responsible corporate citizen.
Furthermore, when other community members see your employees wearing these branded sweatshirts during charitable and community events, it may spark curiosity and interest. They may inquire about your company's values and involvement in community initiatives, which can lead to valuable conversations and potential opportunities for brand growth.
Branded sweatshirts in Freshly Baked Tees
In the dynamic corporate environment of Canada, where brand identity and recognition are paramount, printing your company logo on sweatshirts is a strategy that offers numerous benefits. It nurtures unity among employees, enhances brand visibility, reflects Canadian values, suits diverse work environments, and extends your branding influence beyond the workplace. This trend is not just practical; it also represents your commitment to your team and the community. By printing your company logo on sweatshirts, you are outfitting your employees and elevating your brand for success in Canada.
And, if you are seeking a trusted source for high-quality branded sweatshirts, look no further than Freshly Baked Tees. Our expertise in custom apparel ensures that your branded sweatshirts perfectly encapsulate your company's identity, reflecting your values and vision. Freshly Baked Tees is your partner in enhancing team unity and brand recognition through personalized and stylish sweatshirts in Canada.